Paint is expensive so it helps to squeeze out every last bit of it out of the tube. No matter how much you squeeze the tube with your fingers, you'll never get it all of the paint out. Plus you might strain your hands in the process.
How do you get the last bit of paint out of the tube? A paint tube wringer is the easiest way to squeeze out all of the paint from the tube. In fact, if you were to cut the tube open afterwards, the inside of the tube would almost be totally clean.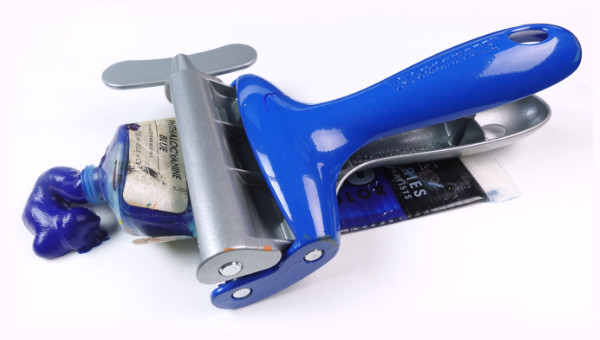 What Is a Paint Tube Wringer?
A paint tube wringer is a device that has two grooved rollers that squeeze the paint tube as you turn the key on the side. The grooved rollers pull the tube through the rollers as you turn the key, forcing the paint to come out of the tube.
Tube wringers have two rollers that you place the tube between, squeeze the handles together, and turn the key.
The rollers apply pressure to the tube so that you can get more paint out of it than you can by squeezing it with your hands.
Paint tube wringers are also called toothpaste squeezers because they are useful for squeezing out any product that comes in a tube. So I believe they're marketed more for household uses rather than for artists.
For example, they're useful for squeezing out the last of the toothpaste or other household products like frosting, tomato paste, medical ointments, glue, etc.
It's the length of the handles that give you much more leverage than what you can apply with your hands.
Some tube wringers have plastic rollers but I always look for one that has metal rollers because they're more durable.
Why You Should Use a Paint Tube Wringer
Regardless of the painting medium you use, paint is one of the more expensive supplies that you use as an artist. Considering that it's a consumable that you purchase repeatedly over the course of your life, you can save money by using a tube squeezer.
I think most artists overlook how expensive paint really is. I calculated the cost of acrylic paint per gallon for my post about How to Save Money on Art Supplies.
Would you believe that acrylic paint costs $500 and $960 per gallon? Yes, you read that right. Those prices are based on professional paints. They cost about $8 to $15 for a 2 ounce tube.
Student acrylics cost about $6 for a 4 ounce tube, but that's still about $192 per gallon.
Now that you know what the real cost of artist paint is, you'll probably hesitate to waste it again.
There are many ways that you can try to get more paint out of the tube, but nothing works as well and as easy as a paint tube wringer.
It doesn't make sense to waste time on the DIY methods for squeezing out the paint aren't worth it.
Just buy a tube wringer. It's faster and with the cost of the paint it will pay for itself in no time. I discuss these other methods later in the post.
What Is the Best Paint Tube Wringer?
The first tube wringer that I bought was a plastic one that I got on sale at a hobby store. I never had one before so I thought this would be a good way to test it out.
After I tried it for the first time I wondered why I didn't buy one sooner. It saves your fingers because you can get a lot of leverage on it without too much effort.
There are many cheap plastic and metal tube wringers on the market, but the cheap plastic ones are prone to breaking.
After a few years of regular use, the plastic tube wringer broke. Even though the rollers were made from plastic, it was the hinge that broke.
I started looking for a replacement immediately. I bought a cheap metal one on Amazon that works okay. This is the budget tube wringer that I recommend later in this post.
The Best Heavy-Duty Metal Tube Wringer
My Top Pick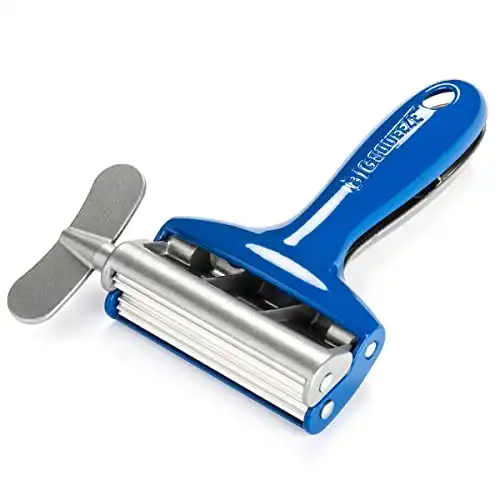 Big Squeeze Tube Squeezing Tool
This is my favorite paint tube wringer! It's heavy duty and the large curved handle is easy on your hands.
Pros:
Made in the USA, Heavy Duty, Ergonomic handle, Guides end of tube away from fingers
Buy on Amazon
Buy on Blick
We earn a commission if you make a purchase, at no additional cost to you.
04/24/2023 03:56 pm GMT

Full discloser: the manufacturer of the Big Squeeze did send me one of these tube wringers for free.
However, there were no strings attached. I'm recommending it because I like how well it works. I wouldn't mention it in this post if I didn't like how it works.
The metal one that I bought from Amazon seemed to be working well enough, I wasn't sure how much better this could be.
Well I surprised at how well this is built and designed.
It's so heavy-duty that it reminds me of something that was built in the early 1900s. You know, like an old cast iron sewing machine.
I can't imagine this ever breaking on me.
The handle is curved so that it's more comfortable to use. Some of the less expensive tube wringers have hard edges that aren't as ergonomic.
I really like the curved metal part that guides the tube away from your hand as you crank the tube through.
All of the less expensive tube wringers that I've used don't have this feature. This means you have stop turning it through the rollers and adjust the position of the tube.
Otherwise the end of the tubes will be stopped when it hits your fingers. There's a photo of this in the next section.
The Best Budget Tube Wringer
My Top Budget Pick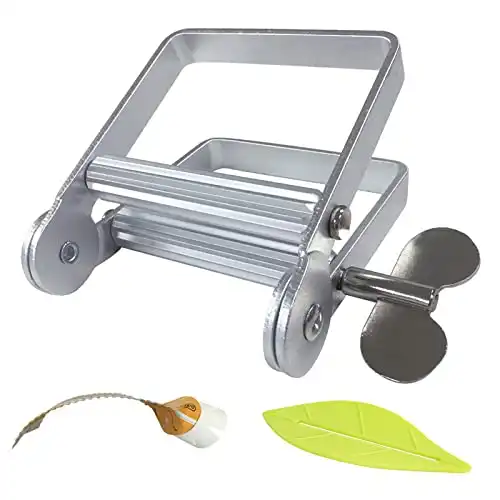 Toothpaste Squeezer
This is my pick for a budget tube wringer. It's made of metal so it should last. It's small and lightweight which is good for traveling. I've had mine for 3 years.
Buy on Amazon
We earn a commission if you make a purchase, at no additional cost to you.
04/24/2023 04:30 pm GMT

If you want to purchase an affordable tube wringer, this metal tube wringer should work. I bought mine in August of 2018 and it still works three years later.
This may be the best solution if you don't paint very often or if you're looking for one to use when you travel.
The advantage of this tube wringer is that it's small and lightweight. So it works well for plein air painting. You can fit it into a small bag or paint box without adding too much weight.
I recommend the tube wringers that are made from metal because, as I said, the plastic ones will sometimes break after a few years. So that's why I recommend this one over any of the plastic wringers.
If you think you'll be using a tube wringer for years, then it makes sense to buy one that will last you the longest rather than having to replace it every 2-3 years.
The problem with the less expensive paint tube squeezers is they direct the tube directly towards your fingers. You can see this in the picture below. I just stop turning the key, push the tube up a little over my fingers, then continue turning the key.
It works, but I prefer a tube squeezer that has a curved piece of metal that guides the tube away, like the Big Squeeze tube wringer above.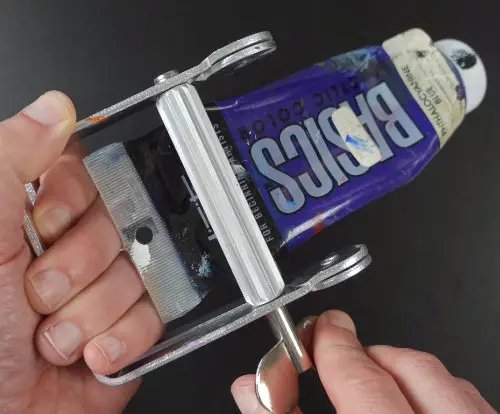 Using Paint Keys to Squeeze Paint Out of the Tube
What are paint keys? Paint keys are a tool made from plastic or metal that slide on to a tube of paint. You simply twist the key on the side to wind the tube around the key and force the paint out of the tube.
Paint keys will help you to squeeze more paint out of the tube than if you were to just use your hands.
Below is a set of 24 plastic paint saver keys from Masterson. These are very affordable, especially considering you get 24 of them.

Tube Wringer Keys – Set of 24 – $5.95
from:
Blick Art Materials
If you're looking for something more robust, below are a set of metal paint tube keys from Amazon. These should be sturdier and be less prone to breaking.
One issues that some artists have with paint keys is that they sometimes don't fit on large or really thick tubes. However, they do work well on small tubes of watercolor paint.
DIY Solutions
Over the years of being in art classes and taking workshops, I've seen some creative ways to get more paint out of a tube.
For example, I've seen artists step on a tube of paint to get more paint out of it. I guess it's an act of desperation. Nobody likes having to make an extra tip to the art supply store when you're close to finishing a painting.
These methods can lead to getting paint on the floor… Not to mention your shoes!
Other do it yourself solutions include using a pipe to apply pressure by rolling it over the tube.
Adventurous painters will cut the tube open but then you have the sharp metal edges of the tube to watch out for.
I don't recommend these methods because they're inefficient, messy, and maybe even a little dangerous.
Think about it. Being an artist requires that you'll be squeezing out paint almost every time you paint. So why would you want to do that the hard way every time you paint?
Paint Tube Cap Gripper

Sometimes you can have a difficult time removing a cap from a tube of paint. This is especially true if you have arthritis or you just don't have much strength in your hands.
Paint behaves like an adhesive when you get it on the threads and put the cap back on.
When I can't remove a cap from a paint tube, the first thing that I try is to place a rag over the cap. If it's not too stuck, the rag helps me to get a better grip on the cap.
The paint tube griper from Golden is a good solution when the rag trick doesn't work. It has different size openings for various sizes of caps. The various size opening fit the caps from their lines of paints.
It should also work with other brands of paints whether they're oils, watercolors, gouache, or acrylics.
Conclusion
After using a tube wringer for years, I can say that buying one of these is a no-brainer. It's the fastest and safest way to get all of the last bit of paint out of the tube.
I also recommend purchasing a second tube squeezer for the kitchen.
There are many food and medical products that are available in tubes: tomato paste, frosting, toothpaste, ointments, etc. A tube wringer will help you to prevent wasting these items and save money.
One final tip: It's a good idea to have a separate set of tools for kitchen. You don't want to contaminate your food or medical products with paint.