I paint on both stretched canvas and canvas panels. They each have their own advantages and provide different painting experiences. Which one you will prefer will probably depend on how you like to paint.
To help you decide which is best for you, I list the differences between canvas panels and stretched canvas below.
*The links in this post that lead to Amazon and Blick are affiliate links. This means that if you click on a link and make a purchase, I earn a commission at no cost to you.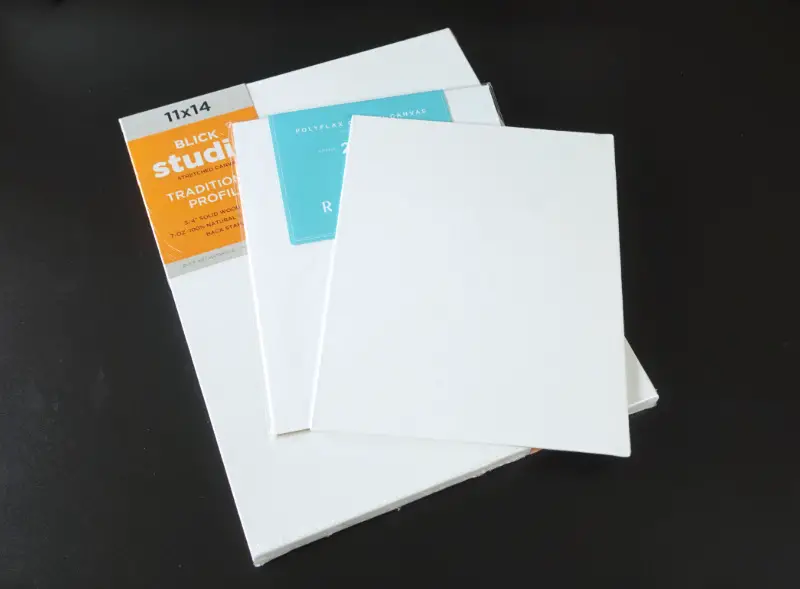 1 Thickness
Canvas panels are much thinner than stretched canvases. There's not much variety in the thickness of canvas panels.
They're usually about 1/8″ thick while stretched canvases are available in a variety of thicknesses.
The thinness of canvas panels makes them very convenient for painting outdoors. I talk about this more in the next section.
Stretched canvases are available in a variety of thicknesses. Here's a link to the premier stretched canvas on Blick. They're available in 7/8″, 1-1/2″, and 2-3/8″ depths.
The standard depth for a traditional stretched canvas is 3/4″, so the premier canvas from Blick is a little thicker.
The extra thick stretched canvases are called gallery wrapped canvases.
Many artists use a gallery wrapped canvas and just hang it on a wall without a frame. You'll even see many contemporary artists display their paintings like this in museums.
If you decide to take this approach, you'll have to decide if you should paint the edges of the canvas.
It's more common to leave the edges unpainted on larger canvases. When you stand in front of a 3′ x4′ painting you really don't see the edges from the front.
Here's a link to my post about the 6 options for painting the edges of a canvas.
2 Canvas Panels Are Better for Plein Air Painting
Plein air painting simply means painting outdoors. If you have every tried painting outdoors you'll quickly become aware of the size and the weight of all of your supplies.
Plein air is a bit like camping. You're always trying to find the lightest and smallest gear.
The difference in the thickness between canvas panels and stretched canvas is dramatic. Since a canvas panel is 1/8″ thick, you can fit approximately 5 of them in the same amount of space you can fit one 3/4″ traditional stretched canvas.
Technically, you should be able to fit 6 canvas panels within 3/4″. However, when you add the canvas, glue, and the extra melamine backing, you may only get 5 of them to fit in the same amount of space as a canvas-see the photo below.
When I paint on location, I like to get the most out of the experience. I would rather carry 10 canvas panels instead of two standard stretched canvases.
That means that I'll have many chances to paint a "keeper."
Sometimes an outdoor painting doesn't work out for many reasons. There's many things to contend with that you don't have to deal with in the studio.
There's the weather, bugs, animals, and people to contend with. The lighting changes rapidly too.
This is what makes plein air painting is exciting in the first place. Working outdoors can be a good change of pace from working indoors.
It also helps that many canvas panels are very affordable, so you can practice on them without feeling like you're wasting money.
When I venture outdoors for a painting excursion, I enjoy the feeling of knowing that I can a bunch of canvas boards and paint to experiment with.
Outdoor painting can be more fun because you don't have as much time as you do in the studio. So I just assume I'll ruin a couple of them and I pack a few extra canvas boards with me.
However, this is just my opinion and approach to painting outdoors.
You may find that you prefer to work on more elaborate pieces on a stretched canvas when painting outdoors.
3 Price – Canvas Panels Are Cheaper Than Stretched Canvas
One of the main considerations when shopping for art supplies is price. Many artists have a budget for supplies and it helps if you can save a few dollars here and there.
Generally speaking, canvas panels are cheaper than buying a stretched canvas. There are exceptions though.
The difficulty of a price comparison between stretched canvas and canvas panels is the quality varies a lot between brands. So the cost really depends upon the quality of the materials.
If you have an interest in saving money, I wrote an entire article about how to save money on art supplies which includes a YouTube video.
Below are the factors you have to consider when shopping for stretched canvases and canvas panels.
The Price of Canvas Panels
Canvas panels are generally less expensive than stretched canvas. The canvas panels with cardboard cores are the least expensive.
These inexpensive canvas boards are basically canvas glued down to a sheet of cardboard.
The higher quality canvas panels have wood hardboard interior that the canvas is glued to. But even some of these are less expensive than a stretched canvas.
Here are some real world comparisons.
Arteza canvas panels have hardboard wood cores and the canvas has a nice texture.
There's a link to a 10 pack off Arteza panels below and they're very affordable. These panels are a good compromise between quality and price.
They have a wood core interior, the corners are square, and the price is very attractive. I much prefer these over the ones that have the cardboard interior.
Best Value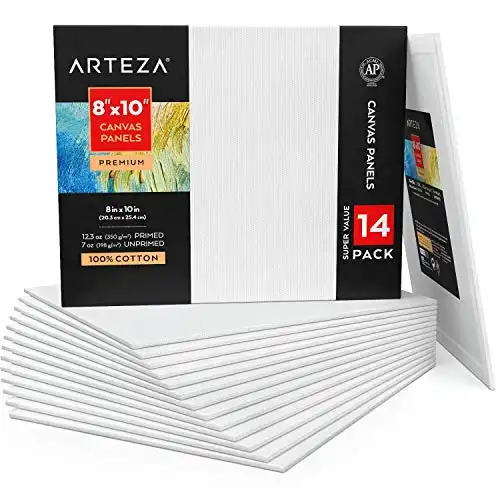 In comparison, the top of the line canvas panels of the same size may cost much more, up to 4 times as much. You may not want to spend the money on them, especially if you're just starting out.
One of the differences is the Raymar panels are sealed with an extra melamine backing material.
Best Quality

This backing material is gray and it makes the board more rigid and resistant to warping. It also protects against damage from things like mold and water.
The smooth melamine surface makes it easy to wipe off any paint that you happen to get on the back.
This can happen if you have wet oil paint on your easel or pochade box. A panel with a paper or cardboard back would be stained if you got paint on it.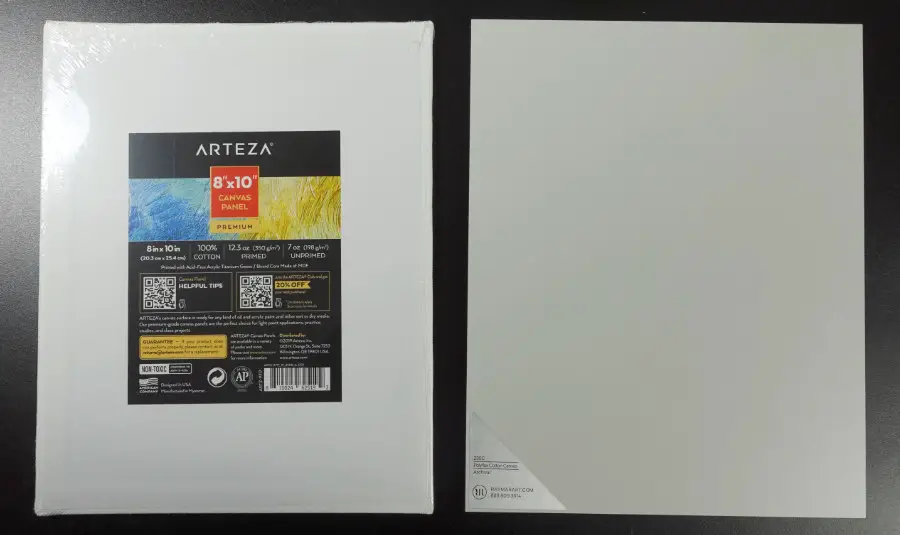 The Raymar panels look nicer too, the backs of the Arteza canvas panels have a big label on it with full color printing. It's not something that you can easily peel off.
The entire back is a white label that overlaps the canvas that's folded over the sides. I assume that helps to prevent the canvas from lifting along the edges.
The Raymar panels have a very small sticker on the back corner. It's subtle because it's gray with back printing. If you don't like the look of it, you can easily peel it off. The melamine surface makes it easy to remove.
I leave the sticker on the Raymar panels. I think that it could be helpful in the future if you every have to repair a painting. Knowing the brand of the panel will help you to know what it's made from.
By the way, the Raymar panels have the canvas trimmed at the edge, whereas the Arteza wraps the canvas around the back. I kind of like it cut at the edge. You can see the trimmed edges of the Raymar panel in the photo where I compare them to the thickness of a stretched canvas.
The Raymar panels also have adhesive that's reversible, so it's possible to remove the canvas from the board.
While you'll probably never need to do this, it's nice to know you can remount the painting on a different board. The situation when you might do this is if the board gets damaged somehow.
The Price of Stretched Canvas
While you can find stretched canvases that are around the same price as a canvas panel, quality seems to matter more with a stretched canvas.
Stretched canvases are more difficult to make affordable while still maintaining quality.
The problems I run into with stretched canvases are the stretcher bars can be warp and the corners might not be square.
In case you're wondering, stretcher bars are the wood frame that the canvas is wrapped around.
The canvas is stretched over a wood frame and is under a lot of tension. In fact, if you tap the canvas with your fingers, it sounds a lot like a drum.
That tension can actually warp the wood stretcher bars.
Another problem with stretched canvas is they can warp after you've painted on it. The wood can warp for a variety of reasons. For example, a change in humidity can make them bow a little.
It can be stressful to have the stretcher bars warp on a painting after you've already invested a number of hours into it.
I've had this happen on a larger painting that I was working on. I was able to remove it and stretch it on a new set of stretcher bars.
This process was kind of stressful and it took extra time that I hadn't planned for.
Sometimes the corners aren't square either. In other words, the angle of each corner should measure 90 degrees. If it doesn't, then the painting will look more like a parallelogram rather than a rectangle.
Canvas panels are canvas that's glued down to either a wood board or cardboard. The cardboard is the solid kind, not the corrugated type.
My point is that it's much easier to cut a perfect 90 degree corner on a flat wood panel than it is to assemble wood stretcher bars with 90 degree corners.
For all of these reasons, I don't buy the lower quality stretched canvases.
One of the brands that I prefer are the studio canvases from Blick.
They have a texture that I like-it's not too smooth nor is it too rough. It has just enough texture for how I like to paint.
They're made rather well. The canvas is stapled on the back which looks nicer than when they're stapled on the side.
Also, the extra canvas on the ones that are back stapled will make it possible to remove the canvas and stretch it on new stretcher bars, if necessary.
It's so much more difficult to do this if you use a canvas that only has 3/4″ of extra canvas on the sides.
Of all the canvas that I purchased with this brand, I only ever had one problem and they replaced it immediately without question.
4 Canvas Panels Are Rigid and Stretched Canvases Are Flexible
One of the major differences between canvas panels and stretched canvas is the stretched canvas gives a little as you paint on it.
Some artists like the feel of a canvas that has some give to it. And you can only get that with a stretched canvas.
A canvas panel is much more rigid. It's more like painting on a wood board because that's often what the canvas is glued down to.
This isn't a quality that matters too much to me, I paint on both.
I will say that the one downside of a stretched canvas is when it gives too much and it touches the stretcher bars when you paint close to the edges.
Sometimes a canvas has enough flexiblity to it that when you paint along the edge, the brush pushes the canvas against the wood bar. You can get an outline of the stretcher bars showing through in your painting.
What happens is that when you brush over the canvas, if the canvas hits the stretcher bar behind it, it pulls off more of the paint from the brush. When that happens, it creates a very distracting outline that you can see in the painting.
One way to avoid this issue is to use stretcher bars that have a raised edge that's deeper than normal.
Another cause is not having enough tension in the canvas. If you stretch your own canvas it can take a little practice to get the feel for how tight you need to stretch it.
5 Canvas Panels Take Up Less Space Than Stretched Canvases
Since canvas panels are thin, they're easier to store and ship.
As I stated in the section about plein air painting, canvas panels take up about 1/5 of the space of a traditional canvas.
This may not matter if you can sell your paintings as fast as you can make them. However, most artists find that after awhile, their paintings start to stack up in the studio.
Stretched canvases can take up a lot of space, especially if you use the thick gallery wrapped canvases.
Anyone with a small studio or who just lacks storage space may benefit from using panels instead of stretched canvas.
6 Shipping Canvas Panels vs Stretched Canvases
Shipping small canvas panels can be a little easier than shipping a stretched canvas.
This is because I can ship a panel in a padded envelope.
Here's a link to my in depth guide on how to ship small paintings. The post includes a video and I demonstrate how to ship an 8″ x10″ canvas panel.
I use a small padded envelope that you can get for free from the post office. You can even order online and have them shipped to your house for free.
For stretched canvases, I usually ship them in the free box that you can get from the post office. These may cost more to ship because of how thick the box is.
7 Available Sizes
I've noticed there are size limitations to both canvas panels and stretched canvases.
I think canvas panels are the best for smaller paintings. Canvas panels usually are only available in smaller sizes.
If you ever have picked up a sheet of wood paneling at the hardware store you'll notice that it flexes as you pick it up. It's not as stiff as a regular wood board.
A large panel is more prone to warping. At a certain size, you have add wood strips along the back of the wood panel to give it support. These are called cradled panels.
I use regular canvas panels for most of my small paintings.
They're great for small studies that are 5×7, 6×6, 8×10, or 9×12. I discuss how canvas sizes and how to use them to your advantage in my post about the most common canvas sizes.
It's interesting how the size of the canvas determines how difficult the rest of the process will be. For instance, picture framing is much easier if you use standard canvas sizes. You can also make prints and use pre-cut matboards instead of having to cut them yourself.
Anyway, canvas panels are ideal for small paintings. Stretched canvases can look awkward at small sizes.
Blick offers stretched canvas as small as 4×4. If you have ever tried stretching a canvas this small, you'll know how difficult it can be to stretch. If you don't get it right, the canvas might sag, especially in the corners.
For this reason, I stick to using canvas panels for very small paintings like this. For larger painting I used stretched canvas.
Picture Framing
This one is somewhat of a moot point so I didn't count it as one of the 7 differences.
Basically, the effort to frame a canvas panel is about the same as framing a stretched canvas.
If you have an interest in framing your own paintings I have an in-depth post about how to frame canvas panels.
In another post, I have a tutorial on how to assemble a wood picture frame kit. Both posts include videos so it's easy to follow along.
In the video about how to assemble a wood picture frame, I show that you can fit a stretched canvas into the same wood frame that I used for the canvas panel. The steps are basically the same.
I think what determines how easy it is to frame is the size. Odd sizes require custom framing whereas a standard size painting can fit into a frame that you can buy ready made.
Conclusion
Overall, I would say that canvas panels work great if your paintings are on the small side or if you like to work outdoors.
I prefer to use a stretched canvas for larger paintings. They're sturdy and large wood panels can start to get too heavy at those sizes.
The texture of the canvas doesn't come into play because you can use the same canvas for making canvas panels or stretched canvases.
Other than that, it's mostly preference. You may find that you like the give of a stretched canvas compared to the rigidness of a panel, or vice versa.
If you found this to be helpful, you may be interested in reading my guide to canvas panels.