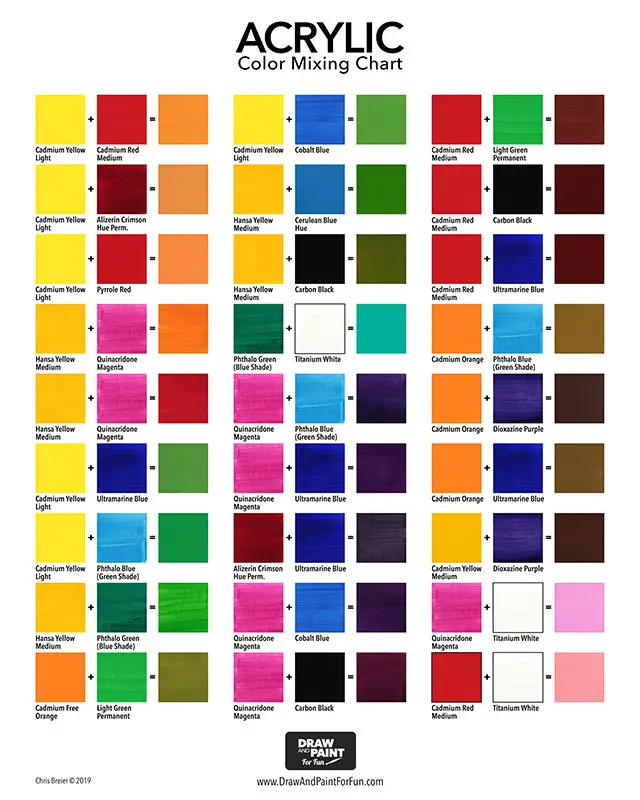 My free color mixing chart contains 29 color mixing recipes for mixing the most common colors used in painting. You can download it by subscribing to my email newsletter. Once the signup is complete, you will receive a welcome email that contains a link to the PDF. The color mixing chart is also part of my color mixing course, see below.
Color Mixing Course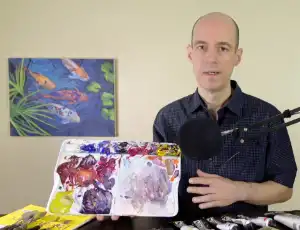 Chris Breier's Color Mixing Course
In this course I teach the color mixing techniques that I use in my social media color matching videos. It's for beginners and advanced painters. It includes 60 minutes of video.
Learn More

Related Color Mixing Posts
Check out the posts below if you're looking for more in depth articles about color mixing. Many of them include YouTube demonstrations. Bookmark this page so you can come back and learn more about color mixing!
Ordering Prints
Click here to order your color mixing chart or click the red button below. The printing is handled by Redbubble and they ship to almost anywhere in the world. They have a generous return policy. You can choose from prints, canvas prints, framed prints, and more. The link will take you to the page for an 8″x10″ photographic print which is the least expensive option. It's also available as a fine art print, framed art print, and more.
[button type="flat" shape="rounded" size="large" href="https://www.redbubble.com/i/photographic-print/Acrylic-Color-Mixing-Chart-by-cbreier/46403096.6Q0TX" title="Print"]Order Print Of Color Mixing Chart[/button]
Introduction
Color mixing can be confusing, even for experienced painters. I created this chart to help make color mixing easier for you. It's a very useful tool to have in your studio to help you to avoid wasting paint, and your time. There are multiple formulas for mixing the same color so that you can mix the color you want, from the colors you already have on your palette.
There are plenty of other color mixtures that you can mix from acrylics, but my goal was to keep it simple. The focus of it is on mixing the secondary colors because you obviously can't mix the primary colors. I only include mixtures of two colors to make it easier for beginners. As you learn more about mixing colors, you can create more complex mixtures by using more colors.
You may find some of the mixtures surprising. For instance, you can mix red even though many books say that you can't because they define red as a primary color. It's not as I explain later in this post. Another fun color mixing fact is that you can create green by mixing yellow with black.
I find that experience is the best teacher, so the most dramatic way to improve your understanding of color is to mix colors and make paintings. Eventually you'll be able to mix colors without having to think about it. Most experienced painters have all of this color mixing theory burned into their memory from working on paintings.
Download the chart and start experimenting with mixing colors. If you need more guidance, I have more information about how to mix each color below. I hope this color chart will help to make color mixing easier for you.
Printing the Color Mixing Chart
The PDF is designed to fit on an 8″x10″. When you print it, it's best to select "fit to page" so that it fills up the sheet of paper without having the printer crop it. This is the best option whether you're printing on US letter or A4.
I chose to make it 8″x10″ so that it will fit into many common print sizes. It's also convenient because there are many affordable 8″x10″ frames that include a precut mat. It's much cheaper to buy a standard frame than it is to pay for custom framing. I wrote more about this in my post 17 Tips for Saving Money on Art Supplies.
You can print it on a home inkjet printer or color laser printer. The accuracy of home color printers varies. If you want the most accurate color, the color mixing chart is available as a print.
The Color Accuracy of the Chart
All of the colors in this chart are photographs of actual paint samples. I hand painted each color swatch and then photographed them. My goal was to create the most accurate color as possible. Regardless of how much care you take when reproducing color, you have to accept that there will be some minor variations in color. Some acrylic paints are more saturated than what you can capture with a camera.
Another reason why the colors that you mix may be slightly different than what you see on the chart is because of the materials you use. There are numerous variables that can affect the color of paint. These variables include: the thickness of the paint, surface sheen, and the brand of paint. Acrylic paints that have the same color name may vary by the brand, but the differences should be subtle.
The chart contains colors from both Liquitex and Golden. You can mix acrylic paints that have different viscosities too. For example, you can mix heavy body acrylics with fluid acrylics. My post about mixing different brands of acrylics goes into this subject in great detail. It covers mixing student grade acrylics with professional acrylics, mixing slow drying acrylics with regular acrylics, and more.
The dark transparent colors, such as Phthalo Green and Dioxazine Purple, can appear extremely dark when you apply them full strength. I applied these colors in thin layers to make them more vibrant. Otherwise, the dark appearance would make the swatches too dark to identify what color they are.
Regardless of these subtleties, a color chart is still very useful as a guide for mixing colors.
Do Color Mixing Recipes Work With Oils, Gouache, or Watercolors?
The colors on this chart are in acrylics, but the same principles apply to oils, watercolor, and gouache. There will be slight differences in color depending on how you apply the paint.
For instance, thin layers of watercolor will obviously look lighter than a solid, opaque application of oil paint. Some watercolor pigments tend to granulate. Granulation is when the pigments clump together as they dry which creates a pattern.
Generally speaking, the same basic color theory applies to all of the painting mediums. Mixtures of Quinacridone Magenta and Phthalo Blue will create purple whether you're using watercolors or acrylics, for example.
How to Use the Mixing Chart
There are 27 color mixing recipes on this chart. They're arranged in 3 columns. Below is the first color recipe from the top left. Simply mix the first 2 colors to create the third.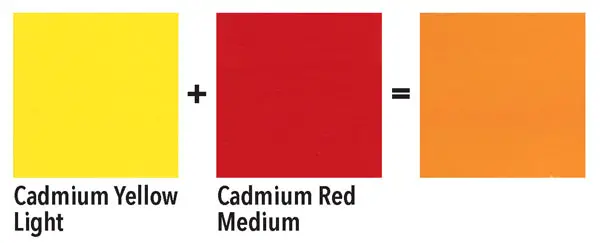 Mix Cadmium Yellow Light with Cadmium Red Medium to create orange. The "+" and "=" signs are there to make it more obvious which two colors you mix to produce the third. This is similar to a simple math problem.
Aside from demonstrating which colors to use, all of the colors on the chart double as color swatches for the standard colors. In the above example, you have a color swatch for Cadmium Yellow light, and Cadmium Red Medium. This comes in handy when you're painting. It's faster to glance at the color chart than it is to find a tube of paint and open it up to get an idea of what the color looks like.
Instead of creating every shade of orange that you can create with red and yellow, I selected the one that I think is close to the average of the two colors. So in the above example, I aimed to create an orange that's halfway between red and yellow.
One exception is the combination of Quinacridone Magenta and Hansa Yellow Medium, which is on the chart twice. That's because I wanted to demonstrate that you can mix red from it, which is something that you shouldn't be able to do. To mix red, you only need to add a small amount of Hansa Yellow Medium to Quinacridone Magenta. If this piques your interest than you may want to read my post How to Mix Red.